Thomas Gage (ca. 1719-1787)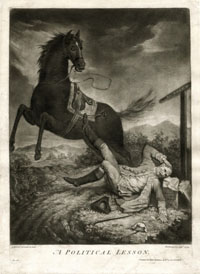 Major General Thomas Gage was commander-in-chief of British forces in North America and governor of Massachusetts Bay during some of the most chaotic years of the American Revolution.
Born in late 1719 or early 1720, Gage attended Westminster School in central London from 1728 to 1736. He had received an army commission by 1740 and in 1743 was promoted to Captain and aide-de-camp to Major General William Anne Keppel, Earl of Albemarle and governor of Virginia. Gage saw intense fighting in the War of Austrian Succession against the French in Flanders, particularly at the Battle of Fontenoy. In 1746, Gage was with Albemarle at the Battle of Culloden in the first line destroying the Jacobite forces. Gage then returned to fighting in Flanders until the Treaty of Aix-la-Chapelle ended the conflict in 1748. Through family influence he transferred to the 44th Regiment of Foot, where he remained for the next ten years, serving mainly in Ireland. He purchased a major's commission in the unit in 1748 and was promoted to Lieutenant Colonel in 1751.
In 1754, Gage's regiment was part of Major General Edward Braddock's army sent to America to expel the French from western Pennsylvania (on their arrival, a young George Washington joined Gage as a member of Braddock's staff; the two who would later face each other across the lines at Boston). Gage was wounded commanding the advance guard of Braddock's army during the July 9, 1755, ambush that killed Braddock. Gage later participated in other unsuccessful operations, including a failed attack on Fort Ticonderoga in 1758, where he was wounded again. By the end of the fighting, Gage had been promoted to Brigadier General and was in command of the rear guard of the army of Sir Jeffrey Amherst, another governor of Virginia who was then also commander-in-chief of the British army in America. Gage had also married Margaret Kemble, an American from Brunswick, New Jersey. Once the French surrendered Canada in 1760, Gage was promoted to Major General, served for several years as governor of Montreal, and then succeeded Amherst as commander-in-chief of the 8,000 men whom, on paper, comprised the British forces in America. After suppressing Pontiac's Rebellion, Gage settled down to life in his new headquarters of New York City for the next nine years.
One particular lesson Gage learned during his years fighting in Europe, Scotland, and North America, was that only overwhelming force could defeat a determined foe. He therefore was consistently reluctant to throw small numbers of troops into harm's way. When the Stamp Act crisis destabilized colonial relations, Gage recalled regular troops from western posts to reinforce New York, Philadelphia, and Boston. During the riot of New Yorkers against the Stamp Act in 1765, he refused the governor's call for troops to suppress the unrest. In 1770, in the immediate aftermath of the Boston "Massacre," he chose to completely withdraw the garrison of regulars from city instead of risking greater conflict.
As a military man, Gage was wholly unprepared to meet the challenges the constitutional crisis foisted upon him. He was on leave in England in 1773 when the Boston Tea Party created an imperial political furor and was still there when Parliament passed the Boston Port Bill, the first of the Coercive Acts that sent transatlantic relations into a tailspin. Gage reported to the King, with remarkable naïveté for someone who had lived for so long in the colonies, that Americans "will be Lyons, whilst we are Lambs but if we take the resolute part they will undoubtedly prove very meek," and suggested that only four regiments would be "sufficient to prevent any disturbance." Gage was sent back in April 1774 to take command of the situation as both commander-in-chief and as the newly appointed governor of Massachusetts Bay.
Having impressed the King with "his Character as an honest determined Man," Gage was given almost complete freedom in enacting the orders he got from London. Lord Dartmouth, the Secretary of State for the American Colonies, strongly encouraged particular actions, such as the arrest of the leading radical malcontents or the seizure of colonial military stores, but his every letter was accompanied by the assurance that how, or even whether, Gage pursued such measures was entirely up to him. Consequently, Gage did very little. Abiding by the Coercive Acts, he shifted the provincial capital from Boston to Salem and, in September 1774, attempted to confiscate gunpowder in Cambridge, but the appearance of hundreds of local militiamen caused him to withdraw into Boston to await reinforcements. With 3,500 regular troops under his command, Gage declared he needed thousands more and a full coastal naval blockade. After several months of receiving increasingly feverish requests from Gage, confidence in his ability to handle the situation evaporated, and three major generals - William Howe, Henry Clinton, and John Burgoyne — were sent with reinforcements to assist Gage.
On April 19, 1775, Gage finally decided to act after an uncharacteristically forceful letter from Dartmouth. He sent a detachment to seize military sources in Concord and arrest two of the leading radicals, John Hancock and Samuel Adams. The operation achieved nothing except to rally the patriots to "The Shot Heard 'Round the World" and cost Gage considerable losses during a nightmarish running battle from Concord back to Boston. The city was then besieged by thousands of militiamen from across New England, penning Gage and his forces. The reinforcements arrived in May, but the situation did not improve as Gage continued to vacillate. In June the provincial troops placed artillery on high ground that commanded Boston, which forced Gage to try dislodging them. He ordered a frontal assault against the colonial fortifications on Breed's Hill overlooking Charlestown. On June 17, Major General William Howe sent his 2500 men up the hill held by roughly 3000 entrenched provincials. It took three attacks to drive the Americans from Breed's and Bunker hills and then entirely off the peninsula in one of the costliest battles of the entire War for Independence. The British lost 1,150 men (about 40 percent), including a strikingly high number of officers. In fact, of all the British officers killed in the war, one out of every eight was lost at what has become known as the Battle of Bunker Hill.
By June 17 a new Secretary of State for the Colonies, George Germain, was planning Gage's recall. Gage was ordered home in October and never again held a field command. His only other military activity came in 1781 when he again assisted Amherst, his superior of 30 years before, in preparing the defenses of England against a potential French attack. When the North ministry fell in 1782, taking with it many of those who remembered his mistakes in 1775, Gage was promoted to full General, but it was his final honor. He died at his home in London on April 2, 1787.