The Siege of Boston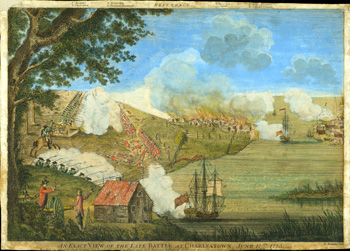 The siege of Boston followed of the Battles of Lexington and Concord when colonial militia forced British troops back into Boston, Massachusetts and surrounded the city. This restricted the movements of the British, as the city was connected to the rest of Massachusetts by a narrow slip of land called the Boston Neck, and cut critical supply routes. The New England army surrounding British Commander-in-Chief Thomas Gage was comprised mostly of militia from Massachusetts, New Hampshire, Rhode Island and Connecticut. The center and headquarters of the militia force was established at Cambridge and Massachusetts' Artemas Ward given command.
Skirmishes soon began to break out. As supplies within city dwindled Gage ordered a foraging expedition to Grape Island in Boston Harbor. When the local residents noticed this they immediately called on the militia forcing a series of small battles and raids that eventually encompassed all of the islands in Boston Harbor. Skirmishing also occurred at Boston Neck, perhaps forced by the fact that this was the only area in which British and American troop lines were in direct contact.
Help arrived for the British on May 25, 1775, when British Major Generals William Howe, Henry Clinton and John Burgoyne arrived in Boston with reinforcements. Together these generals worked on a plan to suppress the rebellion with armed force. Their first idea was to take the elevated position of Dorchester Heights, which would give their artillery control of the surrounding area, and allow them to march out of the Boston Neck to take the American headquarters at Cambridge. On the other hand, Dorchester Heights was also of important strategic value to the colonials, who could rain artillery fire on the town of Boston from there and effectively force the British Navy from Boston Harbor.
Through spies in the city, Americans learned of the British move five days before it happened. They then fortified the Charleston peninsula with the hope of deflecting the British from occupying Dorchester Heights. This move led to the Battle of Bunker Hill on June 17, a tactical British victory but one of the costliest battles of the War for Independence.
Unbeknownst to the troops at Boston, the Continental Congress had made the decision to create an official army. On June 14, 1775, Congress adopted the New England forces besieging Boston as the "Continental Army" and immediately elected George Washington its Commander-in-Chief. Washington quickly travelled to New England and took control of the forces there on July 2, 1775.