The Perception of John Wilkes in Williamsburg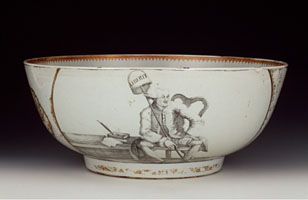 The constitutional controversy generated by the prosecution of John Wilkes for printing North Briton No. 45 turned him into a major celebrity on both sides of the Atlantic. For many, his image was that of a principled champion for constitutional liberty, while for others his very name came represent the dangers of mob rule. Consequently, prints, bowls, and other objects depicting him and North Briton No. 45 began to appear in America and Britain as political statements. Paul Revere, for example, created a "Liberty Bowl" that connected Wilkes to the Massachusetts Assembly's 1768 refusal of an order from the Crown to rescind a circular letter to other colonies. The bowl, which weighs 45 ounces and holds 45 gills of punch, is inscribed on one side with the names of the Massachusetts legislators who opposed the order and on the other with the words "No. 45. Wilkes and Liberty," surrounded by "Magna Charta" and the "Bill of Rights."
Other bowls were created to commemorate Wilkes, such as a porcelain punch bowl in the Colonial Williamsburg collections. Imported to England from China in the 1760s, an artist added to the bowl a fine rendering of William Hogarth's famous 1763 engraving of Wilkes, shown seated next to a table topped with North Briton No. 45 and holding a pole topped by a liberty cap-a well-known symbol derived from ancient Rome where former slaves were given a cap — to symbolize their freedom. However, in 1768 in Williamsburg, Wilkes meant something else to an English visitor. When the House of Burgesses refused an order to disregard the same Massachusetts circular letter celebrated by Revere, it was dissolved by the royal governor. Robert Fairfax, the brother of the noble proprietor of the province's Northern Neck, reflected the opposing view of Wilkes as an icon of misrule rather than constitutional freedom and those who followed his dubious example as woven from the same radical cloth. Fairfax wrote from Williamsburg on May 20, 1769 that "things went on very well till last Monday, when a set of Wilkes's mov'd a string of Resolutions in opposition to those of the Lords in England which lay'd the Governor under the disagreeable necessity of Dissolving them."